Shelly Linderman (right) and Matlei Phares of Wiregrass Angel House hang up a memorial quilt at Wiregrass Angel House on Monday. The quilt is a collection of individual personalized squares that represent loved ones that have been murdered.
JAY HARE/DOTHAN EAGLE
With more than 400 violent deaths categorized as murder or manslaughter in 2016, Alabama had the nation's third highest homicide rate that year, according to statistics released by the FBI.
Dothan is home to one organization whose goal is to serve as an advocate for victims of homicide — the Wiregrass Angel House.
The Angel House advocates for victims' rights and services for victims of violent crimes, providing direct services to the victims' family.
"There are too many homicide victims," said Angel House Director Shelly Linderman. "The sad thing is not only are there too many victims, there are too many people that just don't know how many people are victims of a homicide. This is something that can't be swept under a mat. These are family members and friends that have lost loved ones way too soon."
That's why the Angel House is dedicated to educating the community on its upcoming event, the 2018 National Day of Remembrance of Homicide Victims. The event is scheduled for Sept. 25 at 5:30 p.m.
NOTE: Content no longer available on DothanEagle.com
Click Read More to view videos
DANNY TINDELL / DOTHAN EAGLE Tony Luker with Wiregrass Angel House poses with the organization's new therapy dogs Luke and Cole on Monday.
Posted on Oct 10, 2016
by Matt Elofson
Crime and courts reporterCole, a black Labrador retriever therapy dog, recently helped a teenage girl relax and open up during therapy at Wiregrass Angel House.
The teenage girl witnessed a violent crime and has been going through some therapy sessions with Wiregrass Angel House, a local nonprofit agency that helps victims of violent crime.
"It made her open up more," said Shelly Linderman, the director of Wiregrass Angel House. "When she first started (therapy with Cole) she was totally against it. Then she was asking for him all the time in therapy. He's made her feel more comfortable."
NOTE: Remaining contact no longer on DothanEagle.com
Article courtesy of The Dothan Eagle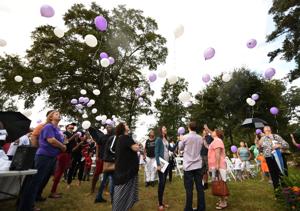 DANNY TINDELL / DOTHAN EAGLE People release balloons at Wiregrass Angel House in Dothan, in honor of area homicide victims.


Posted on Sep 25, 2016
by Matt Elofson
Crime and courts reporter
Kim Fields released a balloon Sunday afternoon and watched as it floated up toward the sky delivering a message to her younger brother, who was shot to death over two years ago in Dothan.
Fields joined over 50 people who attended the National Day of Remembrance ceremony for victims of homicide Sunday at the Wiregrass Angel House in Dothan.
View Full Article on DothanEagle.com
Article courtesy of The Dothan Eagle
Wiregrass Angel House has started purchasing our memory pavers. These pavers will be placed under a newly constructed arbor. Each paver will be in memory or in honor of a loved one. This is not a fundraiser; we are only charging the price of the paver - $30. If you are interested in having a paver in memory of your loved one, please contact the Wiregrass Angel House office. Click the PDF icon for our Memorial Paver form.