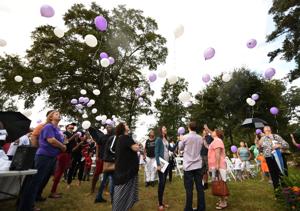 DANNY TINDELL / DOTHAN EAGLE People release balloons at Wiregrass Angel House in Dothan, in honor of area homicide victims.


Posted on Sep 25, 2016
by Matt Elofson
Crime and courts reporter
Kim Fields released a balloon Sunday afternoon and watched as it floated up toward the sky delivering a message to her younger brother, who was shot to death over two years ago in Dothan.
Fields joined over 50 people who attended the National Day of Remembrance ceremony for victims of homicide Sunday at the Wiregrass Angel House in Dothan.
View Full Article on DothanEagle.com
Article courtesy of The Dothan Eagle
Wiregrass Angel House has started purchasing our memory pavers. These pavers will be placed under a newly constructed arbor. Each paver will be in memory or in honor of a loved one. This is not a fundraiser; we are only charging the price of the paver - $30. If you are interested in having a paver in memory of your loved one, please contact the Wiregrass Angel House office. Click the PDF icon for our Memorial Paver form.